About Refugees, By Refugees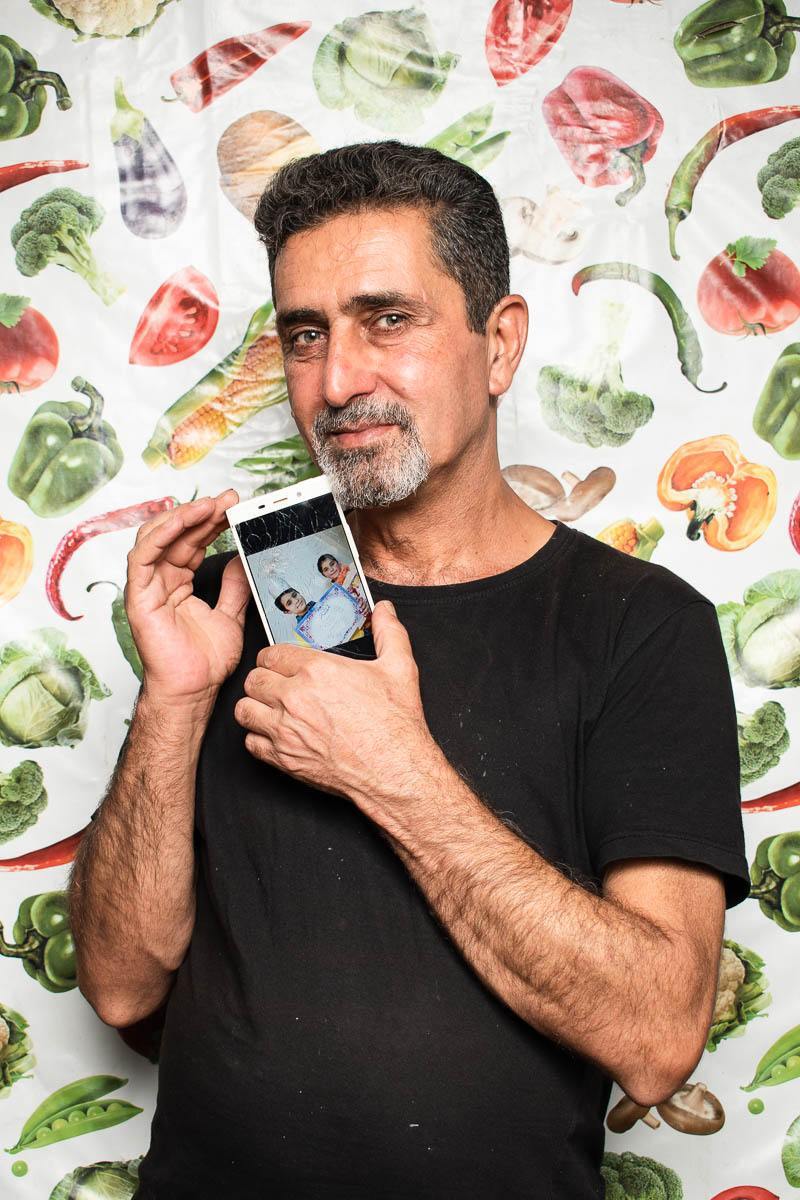 Basel Watti
Pictures taken in:
From:
Nationality:
Photo and interview by:
Greece
Syria
Syrian
Yousif Al Shewaili
"My dreams for the future are about reuniting with my children," says asylum seeker Basel Watti (53) from the Greek Island of Lesbos. Basel, a successful businessman, says he fled Syria after the state sentenced him to death in order to take his property. He had to leave his family and life's work behind. "Leaving my country was like leaving life. Everything I built during my life turned into nothing the moment I decided to cross the border to Turkey." It took him 18 attempts to cross into Greece. On one occasion his boat started taking on water. He thought he would die. "Whenever I have a flashback of this moment, I stop what I'm doing and feel the darkness and sadness controlling me. That was a moment where my kids would have become orphans." He desperately misses his family. "I am just living in the hope that I can meet them again. This is the hope that helped me survive all the hardship I've encountered in my life, and it is giving me strength and helping me to hold on to life."
Trigger Warning:
full interview
This interview was provided without the questions that were asked by the interviewer.
I live in a wooden tent in Mória [Refugee] Camp, I face difficulties communicating with most of the Afghani inhabitants of the camp, who are a majority, as most of them have very different habits and culture than mine. I spend most of my time at work, I started a small restaurant to avoid getting bored or resorting to alcohol or drugs as many end up doing. 
I cook a variety of middle-eastern dishes from the Levant region, like falafel, fries, Kibbeh, Mansaf, and others. Things that keep me happy here are related to memories with my children and family, their faces bring me joy. I was delighted to reach Europe, the land of humanity as we learned, but I got surprised that I still did not reach, I am in a besieged camp, not allowed to leave at all, one has to request a permission from the authorities to leave, which is not possible. 
The bright side about being here in Lesbos island is the beauty of the city, and the kindness of its people. The Greeks are a nation with roots and a civilisation that they still hold on to, we have only seen good morals and no racism from them. I am glad to have had the chance to witness how the ancient Greek culture is still manifested by the Greek people.  
The hardship of living here comes mainly from the outlaws and thieves who rob people during night hours. I got robbed three times already, but have not been hurt, they have took my phone, but other people got stabbed by robbers. Such cases are reported to the camp management, and the authorities are aware of. Incidents like these make me feel like my life is on the verge of ending. 
The continuous feeling of waiting is what has made me decide to start the restaurant business, to avoid counting days and hours while I miss my family and friends. Talking about how much I miss them is another issue that I cannot handle, I break down each time I try to describe how I feel about this. I do not know how I am living here away from my family, I am just living on hopes that I can meet them again, this is the hope that helped me survive all the hardship I encountered in my life, and it is giving me strength and helping me holding on to life.
I left Turkey because it is a religiously extremist country, their president is a Muslim man who is unwelcoming of non-religious people, and this is the furthest approach from humanity.I came to Europe to seek humanity and find a resort from extremism, I want to live freely non-bound by any norms and traditions, I just want humanity to be my tradition. I want to treat others and be treated humanely and only be bound to humanity.
When COVID-19 broke-out, it had only one positive side along with its numerous negative sides, which is that it taught people to live in harmony, and that everyone is at risk of something that affects humans equally. However, the pandemic had its heavy load on me, I had to stop work completely during lockdown periods, I had no income at all. Being cautious not to catch the virus had also been very difficult, I was terrified.
I owned a factory back home, it was 2000 sq meters. By the beginning of the war, the road that leads to my factory got blocked, I never saw it again. Six months after that, the Syrian security forces attacked my house and forced me to leave because they needed to occupy it for its strategic location in the heart of Damascus within the secured square of the city. I have been accused of several fake charges to pressure me to leave my house. I had another house which I have given to my wife when she asked for divorce one year after the war. After this happened I worked again and managed to buy three other buildings in Damascus, I was surprised to find out that these buildings were owned by an officer in the state. After that, they [the state] started accusing me with more charges, but this time the charges were very serious that it led to ordering to summarily execute me. I fled Damascus, some Kurdish friends helped me reach Afrin [a city in Aleppo governorate north of Syria not far from borders with Turkey]. I tried living in Afrin, but the situation was unbearable, Aleppo was violated by all parties, governed by conflicting militias, we could never guess who is right and who is wrong.
After that, I fled to Turkey, which was one of the hardest decisions I took in my life. Leaving my country was like leaving life. Everything I built during my life turned into nothing the moment I decided to cross borders to Turkey.From Turkey I tried to cross to Greece 17 times and failed, the 18th time was the last, I crossed to Lesbos Island. Two of these attempts were by land, and I first almost died while trying to cross the river in Edrine city of Turkey leading to Greece, the second attempt we managed to cross the river and land a foot in Greece but we had to return because the Greek border Police came after us. I never tried to cross on foot again. During my attempts to cross by sea, I was arrested several times and ended up in many Turkish prisons. I wasted a lot of money and effort while seeking to get to Greece. One of these attempts was also near-death experience when the boat we took got drowned, all I was thinking at that moment was if we will be remembered, or we will just stay in this water and be buried with our names and memories to be forgotten and not recognised. Whenever I have a flashback of this moment, I stop what I do and feel the darkness and sadness controlling me, that was a moment where my kids would have become orphans, or never even recognise what happened to their father. 
This experience is also part of my experience in camp Mória. Each time I get assaulted by the robbers and gangs here, I expect to be stabbed and killed without my kids knowing anything about what happened to me, I feel like it is possible that I will be unknown and unrecognised, it is extremely distressful, I cannot even describe. I was not hindered by the hardship I faced on my way, I had only one goal, that is to reach Europe, and now I am in the first step on my journey to safety, I am not looking back. The only thing from the past that I see is my children and family, one of the main motives of getting here was to bring my kids also to a safe place. 
Before the war in Syria, I had dreams and hopes for my children to get good education and be successful in life, to expand my factories and businesses to produce affordable goods for all, to help the poor.
When left, I was hoping to reach Europe and then bring my children to join me, regardless what it takes. This was 8 years ago, and that was when I last saw my children. I cannot even call them often due to the insecurity in my home country. My wife and family are separated from me to get a safe life, contacting them could put them at risk as I was/am a target for the state. We did not expect what happened to Syria.
My journey made me realise the nature of humans when experiencing extreme hardship, it puts a human on a test to let go their humanity or sticking to it.
My dreams for the future are about reuniting with my children. I also have a dream to own an industrial asset, even if it is half what I have back home. I have a long experience in this field, I am a mechanical engineer, I was managing a kitchen furniture company by the age of 20, and I later became one of the managers for a car manufacturing company in Aleppo in 1992. We made cars with three wheels, they accused us with producing "suicidal cars" and our factory was shut down, and here we are in 2020 people started producing 3-wheels-vehicles. At the time, it was a successful project, so what I am trying to say is why don't they [the authorities] make use of the human assets of ideas and energies they have here in this very camp. We are stuck here, only cases who have a disability or mental health issues get to leave the camp and be safe outside, why is that? Why don't they give us the right to asylum?
Many 1000 Dreams interviews were not conducted in English. Their translation has not always been performed by professional translators. Despite great efforts to ensure accuracy, there may be errors.