About Refugees, By Refugees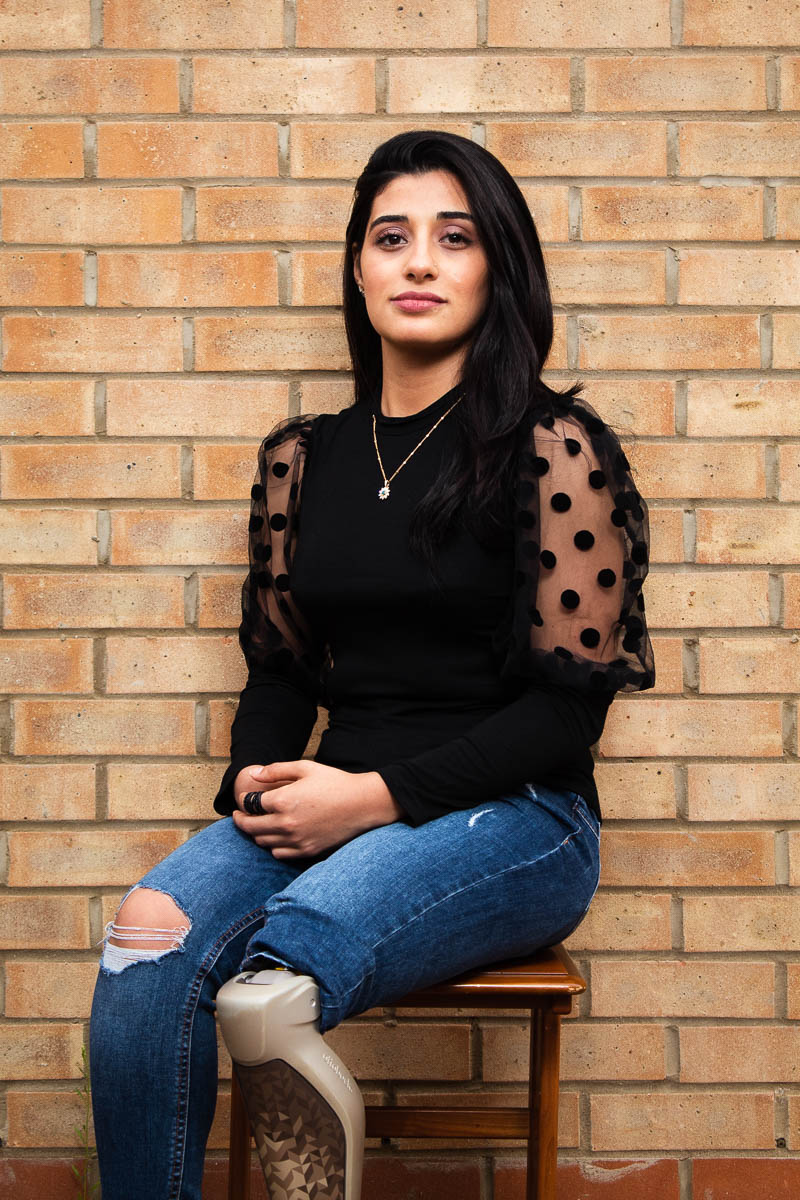 Dema Aktaa
Pictures taken in:
From:
Nationality:
Photo and interview by:
United Kingdom
Syria
Syrian
Abdullrhman Hassona
"I am working to achieve my dream in the Paralympic Games and reach my dream of running," says Dema Aktaa (26). She left Syria in 2012 after her house was hit by a missile and she lost her leg. I started screaming for my family members to be sure if they were there or killed. When I heard the voice of my mother and sisters, my God gave me strength… This strength made me endure the pain of carrying my feet with both hands," she recalls. She went to Lebanon, and returned to Syria several years later to complete her studies. But in 2016 "the war increased," and Dema was forced to flee again. She now lives in the UK with her mother and younger sister. As a teenager, Dema participated in local sports competitions, and she dreams of competing in the Paralympics. "No living person has the right to judge if another person's life has ended because of a condition or illness he has experienced," she says. "I am a person who lost a leg, but this does not prevent me from continuing my life."
Trigger Warning: Violence
full interview
In the beginning, the topic is simple. Tell me about the house where you live here? 
I live in a council house in the Flitwick Town in England with my mother and my little sister. 
Good. How do you generally spend your day at home? 
If I'm at home and I don't want to get out of it, I watch Netflix, study, read books, talk to my sisters or friends or make some arrangements for the next day. 
Well, what are the things you do that make you feel happy? 
Several things to be honest with you. Sometimes I like to walk for long periods, exercise or run, it gives me positive energy to keep going. This removes negative energy from my past experiences or the negative effect of things that happened to me on the same day. Sports in general is what I like to do. 
Well, since you've been here. When did you come here? 
In 2017. 
Since your arrival, what difficulties have you experienced and what are the things that made you happy at the beginning of your arrival in Britain? 
From the beginning of your arrival, you will live with things that are completely new to you, including homes, culture, language, people and society. Naturally, you will take some time to adapt to all this. You will face difficulties at first, but when you mix with the people present and see how humble they are, and they try to make you feel that you are like them and there is no difference between you and them, you actually start accepting things will go well. It was not an easy stage, but it passed in a good way. 
Well, what was the most beautiful thing about them? 
To learn about new culture and learn how to develop yourself because you are in a new country; since you have no experience and when you see that you are beginning to deepen and mix in society, you will be happy and your abilities will improve greatly. This is very beautiful for me. 
What is the most dominant feeling for you to be in the place where you are now? 
What do you mean? 
What do you feel most about being here? It does not have to be positive or negative.
Can you repeat the question? 
What are the feelings you feel here in Britain? You stayed here for five years. What are the feelings that overwhelm you? 
I found myself here: this word is small but big in its meaning for me. I found myself in all stages of my life, in the beginning when it all started and in how I imposed myself on society. I am a person who lost a leg, but this does not prevent me from continuing my life.
Are you here by yourself? 
Yes, only my mother and sister, but the rest do not live with me. 
Well, could you imagine having the experience of living in another country, even in the positive way as you told me that you found yourself or feel the loss of certain people or a new experience that you still haven't had? 
I used to feel this feeling, but I didn't want to say it out loud, I couldn't tell myself that I wanted to leave Syria or Lebanon or in general to settle outside my country. I didn't have the motivation to go out and live elsewhere. 
Well, do you feel that you've developed the way you deal with this? 
Sure, a million percent sure. 
Well, the period of Covid 19, since you have been stable here for years, what has changed in the period of Covid, whether positive or negative? 
In all situations that happen to us in general, including pros and cons, people should focus on the positive side more. The negative happens for a specific reason. Covid has had the effect of postponing a surgery of which I waited for 6 months. As a result, I was late for my studies, work and things I intend to do. After the surgery and the installation of the prosthesis, I saw the positive impact of the pandemic and its consequences. I saw the difference in the next 6 months as I was able to walk and adapt to the prosthesis for less than 6 months. The doctors were shocked that I adapted so quickly. I had to wait for 3 more months without a prosthesis and I was forbidden from it, but I did not stop and continued to go out on walking sticks and exercising. I found compensation from my Lord for a very short time because I went through all these things quickly. It is true that I was late for my studies and work, but God compensated me for that period by leaving these stages quickly and easily. 
Now we will talk about your departure from Syria.
Ok.
Why did you leave your country? 
Why did I leave Syria? In 2012, I was hit by a missile and I lost my leg. Meanwhile, we did not intend to leave Syria or our home in general. But when this incident happened to us, we did not have a house, which means our home was completely demolished. I stayed in my grandfather's house for a while. After completing my surgery, I returned to the same area where I was injured. I stayed in my grandfather's house for a while and then went out to Lebanon. I stayed with my younger brothers. I have two brothers who work in Lebanon. That's where the tragedy began – when you're forced to leave your country in a way that is not satisfactory to you or out of your control. You did not choose to go through your life like this, but (God fore-ordains and He does what He wills), this thing has made a quantum leap in my life, as I am psychologically incapable of losing an organ from my body. Even my family, for example – how can we leave our house without any of my property, only the clothes on our bodies and leave? And if you take a while in this quick move, you decide to leave Syria to live in Lebanon, but at the same time you are looking for safety for you and your family. We have stayed in Lebanon for about six years. It was almost tragic for me. I am talking about psychological and physical levels. I left when I was still in the recovery phase. I have not finished it yet. However, I have not been able to stay in Syria. I stayed in Lebanon until my feet were completely cured, almost a whole year later until my feet improved, but I did not know anything about walking sticks or using them. I do not know how to deal with people, or let me say how to make people accept me as I am. In our society or in Eastern society in general, our view of a person who has lost an organ of his body is not an outcast, but the view of compassion prevails. I have no problem with people being sympathetic to me, but not respecting me is a problem. We are people with special needs or people of determination who have the role of society like any normal person who has a role in society. I have not seen such treatment as I have seen here. It was a period from which I learned a lot, how to be more patient and stronger and show people that I do not care about losing my feet in the end. Thank God, my family is well with me and so I left Syria. 
Well, your journey, how was it, did something specific happen in your journey from Syria to Lebanon and then to Britain? Is there a specific experience or something related to the trip that you will never forget? 
In society's perception of me in Lebanon, or let me say in our Eastern societies in general, I have suffered from a look of pity. They look at me as a poor girl whose future has been destroyed because of her health condition, meaning that I have become like an inanimate object with no role in life. No living person has the right to judge if another person's life has ended because of a condition or illness he has experienced. I cannot judge because it is possible that this person has greater abilities than mine. Many of the people I encountered in my life used to hide their children's eyes so that they would not see me like this. At the time, I did not have a prosthesis. They could not explain to their children why I am in this situation and why my feet were amputated. If we do not help ourselves or receive help from the surrounding community, this look will not end in our communities. This situation has had a great impact on me until now. 
Is thinking about these things still going on? 
Currently, no, but when you are exposed to these situations, it is the subconscious mind that gives the command to recall memories, but I have been able to deal with these situations and I do not think about these things. 
You didn't expect to go through such experiences? 
No. 
How old were you in Syria? 
When I was injured, I was 18 years old. 
Surely you have never thought of such possibilities. After the injury, you did not tell me about the injury comfortably. 
I don't mind talking about my injury, but I'm waiting to ask you about it. 
I don't have to ask you about your injury, but while talking, if you want to talk about it, there is no problem. But have you thought for example? Even if you were not thinking, you can say that such things have not occurred to me. If you thought of a certain way to get you out of the prevailing situation or from what happened to you, would you pass it by a certain behavior, in a strategy or in a specific idea? 
The idea is like what I told you, maybe my Lord took my foot from me or that my fate is to lose part of my body to compensate with something better. The lesson here is the strength I got at that time. When I was injured it was half past eight at night, I didn't shed a single tear. I know I lost my foot and I was talking to people normally; even when I entered the operating room, I didn't cry. 
Two and half dawn were you sleeping? 
No, the shell hit our house at 8:30 p.m. 
Ok. 
At that time, my family was in the same house. Thank God, no one was hurt. Only I was injured. 
What happened? 
When we were bombed, my whole family was at home. 
I know, what happened at the time? 
The shell hit the guest room in our house. I was leaving the guest room to the balcony at the same time. The shell hit my house and exploded. All my family members were in the room next to the balcony. My mother was in front of the balcony door. I mean, I am here and my mother is there. The shell passed over my mother, the shell exploded in half, so my foot immediately amputated. In the meantime, I started screaming for my family members to be sure if they were there or killed. When I heard the voice of my mother and sisters, my God gave me strength that made me calm and quiet for three hours from home to the hospital. I did not speak, scream or cry. I did not express my pain. This strength made me endure the pain of carrying my feet with both hands. At that moment, God compensated me for losing my feet. When I arrived at the hospital, I was talking to the doctors and telling them what happened and I started explaining to them in full detail calmly without showing any other feelings. The doctors were surprised by my reaction and calmed me down. They thought I was experiencing psychological trauma because they did not see any tear coming out of my eyes and I did not show them that I was in pain. In the meantime, I thanked God because the damage has come to my feet and I have not lost any member of my family. I live a normal life, not almost normal, but completely normal. Thank God and I am very happy about it. 
That's what you had in mind. You didn't think about what to do next? 
The first two years I thought about this thing, meaning when you are a complete human being and suddenly lose an organ in your body, your body will react. You will have to deal with something new. Your psyche will differ and you learn things from the beginning, such as learning to sit or walk. In the first two years I was at this point – I was like a self-medicated person. After that, I wanted to do something for myself. I wanted to continue my studies and other things, but I was suffering from many health problems due to the loss of my feet. My body reacted and I had problems with my spine and other feet, all of which I was able to treat myself. After that, I really wanted to complete my studies or work to get out of the current situation only to distract myself. Then I started looking for a job and worked for a short time and because I didn't have a prosthesis, I had some problems and then I decided to return to Syria in 2016 – I mean around the end of 2015. 
From Lebanon? 
Yes, I decided to complete my studies and enter university at that time. I stayed for three years without doing anything. Because of that, I changed for the worse. I couldn't bear the situation any more. Then I returned to Syria in order to complete my studies and get a prosthesis and I got it. Then I started the registration procedures at university, knowing that I returned to Al-Sham and did not return to the area where I lived (where I was injured). Things started to turn worse, the war increased and the bombing became more intense. They started bombing randomly; my mother refused the idea of my residence and asked me to return. My mother even threatened me that if I didn't come back, she would come and stay with me in the same place. I couldn't risk my family. Then I came back and my mental health started to get worse, because I wanted to achieve my dream no matter what. I wanted to complete my studies so that I could return to the same girl (Dema) I was before losing my foot. I couldn't achieve this. I returned to Lebanon in 2016. 
I want to talk about before all these events, before your suffering and the war, when you were 18 or 17 years old, what were your biggest dreams? 
My dreams were many. First of all, I dreamed of finishing my studies and completing a master's degree in law, but my plans changed when I was in Syria. My goal was to develop myself. I dreamed of being an international lawyer in the sense of traveling around the world to work, but – Glory be to God – ideas changed and life changed. I dream of getting to the Olympics in running and in these things, my inclination was more for sports. 
Did you practice sports before the war? 
I used to practice sports before the war. Before losing my feet, I participated in local competitions that were not international. Sport was one of my first dreams. 
Can we talk about your sports dream before the war? 
Sports and running were a dream. I was 15 or 16 years old. I was with a team in school competing with other schools. At the age of 15 or 16, I was not familiar with sports matters enough. I was a child at that time. When I grew up, my knowledge of the Olympics and Paralympic Games expanded, my dream began to grow and I wanted to enter such competitions but then the war started. 
Ok, now we're done with this part and I want to move on to the next part. You talked about the things you used to do before the war, but let me ask you in a different way. You can tell other details. Of course, there were things that distinguish you from others before the war, in your personality or other strengths. Do you still have things in mind that you still feel exist even if you lost them? 
I am afraid of the simplest things. I like to start everything from scratch. I am not afraid of the future. I started my life from zero almost six times and I have the ability to start it a million times as well. 
Before? 
Yes, in other words, at the time of the war and my injury, we were only four girls in the house. I felt responsible towards my sisters. I had a spirit of impulsive youth. I felt that I was responsible for them because – I can't say if I can start everything from scratch. Many times I feel so strong that I'm not afraid of things that can be dangerous. 
And you are still maintaining the same things? 
Yes. Thank God. 
Thank God, after all these trials and wars, have you learned things or matured in some way or new things acquired that you never imagined before to have? 
Surely, I grew up early. During the illness of my father – may God have mercy on him – it had the greatest impact on my life, teaching me responsibility. My younger brothers are working in Lebanon and as I told you before, we are 4 daughters and my mother is with us. My father was sick for 5 years and could not go to the market to buy house obligations. I was the one who handled these matters instead of him. These situations made me grow up and take responsibility in the sense of being in school and then taking care of home matters. I learned patience and self-control. I was a very sensitive person that if someone wanted to joke with me in a bad way, I would start crying, but now thank God I have changed and learned strength in dealing with situations, or as it is said, in emigration, we learn lessons. 
Ok, I asked you about your dream before the war and what you had in mind at the time of the injury. What do you dream about most at the moment? 
Now at this time? 
No, before the war there was a period, and then at the time of war, the thinking of all people changes, and we begin to think that life is unstable and we will have another different dream. 
Sure. 
At the moment, what do you dream most about? 
You mean when I was wounded in the war? You asked me this question. I wanted to find a way to deal with myself, right? 
Ok, now? Your dream now? 
I have many dreams, but the most important thing is to complete my studies in the field I am studying and start my own company, or what I hope will happen is that my name is known in my field of work in interior design. Currently, I am working to achieve my dream in the Paralympic Games and reach my dream of running. Other dreams may be small dreams for others, but for me they have a great meaning. 
If God wants, do you want to say something to Western society and Europeans that can help them understand refugees more? Or can they improve something specific or anything you want to tell them? 
In fact, from my experience and from what I have seen here, I have not seen any distinction between me and them. I have been treated like everyone else here. I want to tell them that we did not leave our country only because we wanted to live in Europe. Many people think this way and many people tell us that when things return to normal, you will return to your country. You cannot make the decision to return or not. I decide to return or not. Surely it is my country and I love it. It means my childhood and my whole life. The only point of view is that we had to leave our country and start a new life in Europe. It was very difficult and this was not our choice. We were only looking to live with a little peace and safety. 
Well, we're done. Would you like to add something? 
No, like what, in general? 
Anything.
There is nothing on my mind right now. 
Ok, thank you. 
Many 1000 Dreams interviews were not conducted in English. Their translation has not always been performed by professional translators. Despite great efforts to ensure accuracy, there may be errors.