About Refugees, By Refugees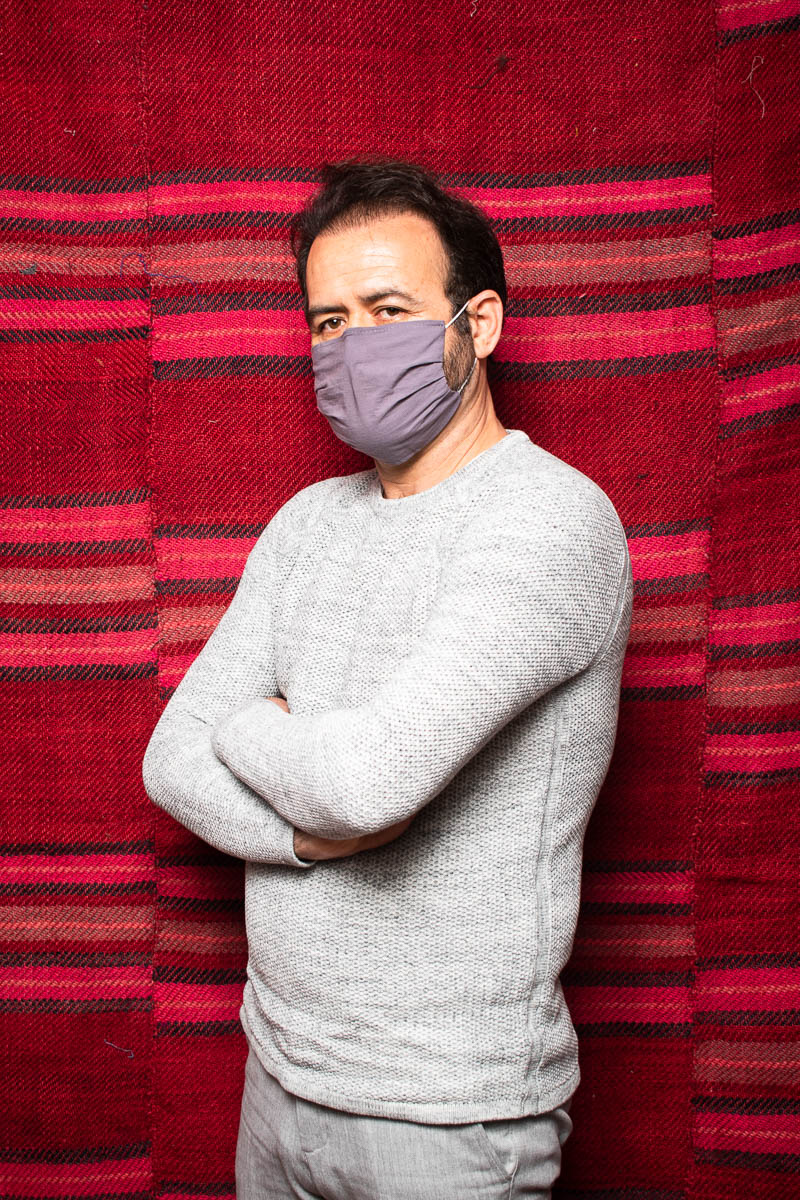 Mohamad Bagher
Pictures taken in:
From:
Nationality:
Photo and interview by:
Greece
Afghanistan
Afghan
Zahra Mojahed
"My dream was for them to live a successful life and do not experience such hard days but, unfortunately, they saw it." Mohamad Bagher (44), always dreamed big for his kids. The IT professional fled Iran with his family after rising up the ranks of corporations, only to be ousted once he landed a top position—for being Afghan, he says. They faced great hurdles to reach Europe: climbing mountains, losing their savings to a smuggler, nearly drowning at sea. "My daughter would tell me, 'daddy, it is enough, let's go back home,'" Mohamad recounts, crying. "Unfortunately, we had no other choice… There was no place to stay and no place to return." Now seeking asylum in Athens, he says he feels sadness—but also more determination. "It has increased because of the experiences that I have gained along this journey," he says. "My dream is to live in an advanced country where there are opportunities for my children to grow and I would be able to make my children's dreams come true."
Trigger Warning:
full interview
Please speak a bit louder so that the voice can be clearly recorded.
Should I take off my mask or not?
Whatever you feel comfortable with.
Ok, no problem.
I explained the project to you and you can ignore answering any questions that you do not feel comfortable answering, you can tell me to stop wherever you feel to take a rest, you can ask me any question that you didn't understand and I can repeat it for you. Can you please introduce yourself?
I am Mohammad Bagher. I am 44 years old. I am from Afghanistan. I was born in Maidan Wardak province.
Where do you live now?
I live in Athens, in Greece.
Have you got your approval? What is your asylum application status here?
No, no, our application has not been assessed yet. Unfortunately, we have lodged our application but it is not clear yet.
In what type of house do you live now?
Our current living conditions are very poor. Now … we live in a room that one of our friends has given us which is temporary and we have to change our place of residence every two months.
Who do you live with?
I live with my wife and my two children. I have a 13-year-old son and an eight-year-old daughter, no she is nine years old.
How do you spend your time? Do you work anywhere?
I, um, tried hard to find a job. I even found a job. I don't want to mention the name now, it was one of the service centers that … Caritas, so I go there and start working. But, since I didn't have any identification documents, I couldn't start my work there although I passed the interview. I spend my time mostly reading and since I don't have a lot of books, I read e-books. And actually, I mostly work in my own professional field.
It means you do not even have a white card?
No, no.
So, they didn't give you a white card either. What makes you happy and what makes you enjoy your life?
In the current situation or generally?
In the current situation, now.
Well, now, the most important thing to me is my children's future. One of the reasons for my immigration was because I care about my children's future. And now, in the current situation, if our application is approved by any country so that we can have a normal life and my children can plan for their future and get educated. This is the most important thing for me now. This way I will be very happy.
How has your life in Europe been since you arrived here? I mean how has it been? What good things did it have for you and what bad things did it have? Can you explain it?
The most important issue that we have here is that actually Europe is a good country in terms of equal rights. Equal rights for all people, equal rights for men and women, and the value that they give to the future of children. This is very important to me that Alhamdulillah Europe has it. This is something which is, unfortunately, much ignored in Afghanistan and those places. And, um … was there anything else?
And the bad things that it had for you.
And the bad points. The bad things are, unfortunately, the financial problems that we have had from the first day that we arrived here. They have ruined the good taste of equality and human rights for us. They put me under a lot of pressure.
Can you express how living here makes you feel?
I have, unfortunately, wasted most of my time trying to make my way and progress in countries like Iran and Afghanistan. I wish I had come here sooner. Maybe I could grow here more than there and maybe I could have had a completely different future. This is the only reason why I didn't come here sooner.
Would you ever imagine being in such a situation and be able to overcome and control it?
I wouldn't imagine getting into such a situation but I always had this self-confidence in me, since I have also lived in Iran, we had the same situation there at the beginning but slowly and slowly, we overcame it by getting educated, and changed our life. 
Do you think the problems and the challenges that you have encountered have improved your abilities and made them better?
Definitely, definitely. I am sure that I have improved in several areas.
How has Covid-19 affected your daily life, your emotions and your feelings?
I think Covid-19 was both good and bad. It was more bad than good but the good point about it was that we practiced treating each other in the family environment. We know that if we want to stay, what should we forgive, how we should behave and treat each other so that we can have a better life. We might have not been able to gain this experience if there was no Covid-19. The fact that if we were supposed to spend more time with our families, how we should fill those gaps.
And the bad points?
The bad thing about it is that we get bored, we cannot go anywhere, and if we have anything to get done at the governmental agencies, we have to wait because, unfortunately, they get postponed. That is why, in terms of the administrative procedures and the job market, this disease has made our situation very hard and difficult. But in terms of feelings and emotions, I think it has been a bit positive.
Now I want to ask about the past part of your life. What was the reason for you to leave your country? Can you explain what happened?
From the beginning?
Yes, from the beginning.
From the beginning, my family and I left Afghanistan when I was a small boy because of religious problems and some sort of personal problems which happened and the war that happened in Afghanistan. Besides that, my father had a problem in Afghanistan and was forced to leave Afghanistan so we went to Iran. I was a six or seven-year-old boy when we went to Iran. And, there, we were humiliated very much at the beginning because of our nationality and being Afghan. There were even days that we would be sent out of our classes because of being Afghan, our teacher would do that. Among the 30 or 35 people that were there in the class, the teacher would send me and my brother, who is one year younger than me, but was in the same class with me. They sent us out of the classroom just because we were Afghan. They would say that we do not have the right to sit in the classrooms in Iran. We bore that for some time. There were days that other students would chase us and whoever got us would beat us in the green spaces or parks. They would pull us from our hands and legs and would throw us in the middle of the street.
Anyways, those days are passed now. We grew up. By the way, I valued my education during all of those times. I would study very hard because I considered education as my only way out. And it was until I got my diploma … And I finished the 12th grade and got my diploma. There is a nationwide university entrance exam in Iran. I took the exam and ranked 215th among all the participants in the country, although there were a lot of limitations for Afghans. I was admitted into the pilot training program but they didn't let me enroll. I got rejected for many other things that one needed to be an Iranian for. They announced at the beginning that I had been admitted but they didn't give me the right to participate in any interview or to be chosen.
Anyways, I was forced to, in other words, um … I got admitted into the engineering school of Shiraz University. I studied metallurgical engineering there. There, we had a lot of limitations, since we had to pay tuition but I didn't have the money. Anyways, it was over. Then, I returned to my own city, one of Iranian cities by the name of Yasuj. And there, I tried to get a job at an industrial company. I was working there but, unfortunately, they wouldn't pay my salary and benefits because I was Afghan. 
Again, I returned to academia and I was attracted to computers. During my years at the university, I had gotten into computer programming with the help of one of my friends. Then I got attracted to the computer major. With all the hardships, I started to study my second bachelor in the field of computer. I majored in IT. When I finished the program, I started working in a private company for free because they said that they didn't want an employee so I started working there voluntarily. Then, when they saw my performance, they said that they will pay me a salary and I should work for them after that. Slowly and slowly, I reached a point where they asked me to become a partner. Then, we had that computer company with those friends. We were mostly working as partners until the time when one of the central servers of the Yasuj municipality got broken. Many of their engineers tried to repair it to no avail. So, I repaired their server.
When I handed it to them, the mayor of that district came and had a meeting with me and when I went there, he asked me to go and work with them. I explained my conditions to him and told him that I am an Afghan and I only had one card as my identification document. They told me that they will get me a permit. I started my work. I delivered one short-term and one long-term plan to the municipality to make the processes and mechanisms operating in the municipality automated. I did that for a couple of years and slowly, I was appointed as the director of the IT department of the municipality of Kohgiluyeh and Boyer-Ahmad.
And there, during the time when I was working there, I started reading about GIS. GIS is about geographic information systems. I went to the National Cartographic Center in Iran for one to two years to study. Then, we started designing GIS systems for the Kohgiluyeh and Boyer-Ahmad provincial governor's office. Then, we started designing and developing GIS systems for the Construction Engineering Organization, and water, gas and power companies there. And, it was until the time when the provincial governor's office offered me the position of the deputy of statistics. I accepted the position without knowing that there were people who had problems with me because of my nationality and had organized conspiracy against me. They would say that you are an Afghan, why you are working here, why you should get a high governmental position and such things. They sent a lot of letters to the capital of Iran, Tehran. So, their special inspectors came and they asked me to leave my job saying that you are an Afghan, although I told them that I have been working here for eight to nine years, I have been working at high positions and I working on a lot of big projects, so all these years, you really didn't know I was an Afghan.
You, yourself, gave me a permit. But they continued bringing excuses telling me that I had to go and get a permit again. When I applied for a license, they didn't give me a license and fired me from my work. I was forced to work in the GIS section for one of the private companies for one or two years. The projects we worked on were for the government being done by the private company owned by some of my friends. Because the government did not have the workforce needed to do their projects, that is why they had to give it to us to do them for them. They came to that company as well, telling me that I was not allowed to work in the private sector either. They dismissed me from that company as well.
Then I was forced to go and work in a clothing store. I used to work in a clothing store for two or three years. Even when I was working in the clothing store, they would bring me their projects, especially the projects related to the GIS. For example, I still have the projects that I worked on when I was working in the clothing store. I would do and deliver their projects there as well. And finally, they made me some offers that were not in line with my beliefs and culture. So, that is why they told me that I have to either work with them in a system that they ask me to do or they will revoke all of my identification documents. As a result, they revoked all of my identification documents and told me to leave Iran's soil as soon as possible and I was forced to immigrate. 
What was your feeling back when all of these things happened to you and you were forced to leave?
I had never experienced such a feeling and it was very hard for me because during my whole life when I was living in Iran, I would have never imagined that a time might come that they will fire me from their office because of my identity and being an Afghan although I was working hard for them and I was working with in full honesty. But they told me to get out of the system because of being an Afghan. It was very hard for me. 
Can you explain your trip to Europe for us and what happened along the way?
With details?
You can say the parts that you think should be shared.
Unfortunately, every minute was a special incident and every second was full of problems and if I share them, I should write a book, frankly speaking.
You can explain it to us as far as you can.
OK. We had to illegally leave Iran's soil because we didn't have any permit to legally get out of the country. We didn't have any documents either. Finally, we left Iran and came to Turkey through the high and difficult-to-climb mountains by the smugglers. The smugglers promised to take us to Turkey. We spent one day and night on the mountains under the rain with my wife and children so that the smuggler could take us to the other side of the border.
When we crossed the border, there were a lot of problems. They even sent us to a stable and there was no other place for us to stay. They had put us in a stable until a van came and took us to the city of Van. They placed about 40 to 50 people inside one van like sheep. The car would go through impassable roads until we reached Van. When we arrived at Van, they took us off the car and said that we have to go our own way from this point onward. We didn't know what to do so we went and surrendered to the police but the police would also pay no attention to us and would say that they were tired of Afghans and Syrians. They wouldn't take care of us at all. We arrived at a camp with a thousand difficulties. After many hours, the police came and took us inside and provided a very basic orientation. It was a very hard and difficult situation there. There was a cell full of maybe more than a thousand people who had been there for several months. We were lucky that they took our biometrics and gave us a document with which we could go to Istanbul. So, we went there two days later.
We went to Istanbul and there, the smuggler who we had arranged with from when we were in Iran made some arrangements to take us to Greece. This smuggler, unfortunately, abused our trust. After spending two to three months there, we had become very tired and the situation was very difficult. He did not answer our phone calls although … First of all, he got the money from us in a way and told us to give him the money first because he had to pay it to someone in cash and then he could transfer us to Greece. Once we gave him the money, his phone was, unfortunately, turned off and we no longer had access to him. And, I unfortunately lost my savings that I had there, because of this smuggler.
Then, we tried to reach Greece with the rest of our money. It had become very hard to get into Greece. We took several games through the sea. I remember in the first game we started from a region called Chenaq-Qala which was through the sea. After two or three times that we came through the sea, the situation got very critical and there were a lot of big waves coming to us. Our boat got full of water. Water was entering the boat through a small hole and by the waves. In sum, we lost our hope of staying alive. It was until we started calling a number. I don't remember what number it was but they told us to call it if we felt any danger. We called that number and the Turkish coast guard answered. Even they themselves came after two to three hours to save us while we were sinking and took us with them. They kept us inside a prison for a week and released us. In sum, the plan was to arrest us and release us again. And again, in order for us to take another game with a smuggler and cross the sea. Finally, after six or seven games full of difficulties, we reached Greece's soil. This was the summary of the trip.
How do you feel when you remember those moments? What was your feeling back then?
I felt the hardest moments of my life during that trip because both me and my wife and children were experiencing the most difficult moments. It means I could clearly see fear in my children's faces. And hopelessness. And also, my children had not experienced such a situation before. Um … my daughter … excuse me (crying). My daughter would tell me, "daddy, it is enough, let's go back home." But, unfortunately, we had no other choice and we had to move on. There was no place to stay and no place to return. 
Do you mostly think about those moments? The things that happened to you along the way.
I actually do think about those moments because I cannot do the other way around. And I might become happy sometimes because those moments have passed now. But when I want to talk to my wife and my children, they always tell me to not even remind them of those moments. It has been very hard for them. 
How does it make you feel when you remember those moments?
About the feelings … it is not possible to express it. I cannot say what feelings I have. But it is a deep feeling of sadness and melancholy that directly affects my heart.
Have you ever imagined facing such a situation and being able to overcome it?
I don't know. I really did not think about it. I don't know.
How could you cope with this situation? With the difficult mental conditions and the things that happened to you along the way. What did you do to forget those memories?
I have not forgotten them. I will never forget them.
Were you able to find a center to help you get mentally and emotionally better?
Not in terms of mental help. Now, my son continuously shouts in his sleep at night. I mean, because of the first time when we were about to sink in the Turkey's sea, it has been one year and some months that he continuously shouts in his sleep. He does it every night or every two nights. He is in a very bad condition now. My son is very smart and clever. He is very successful in his studies but he has become isolated now. For example, he doesn't speak very much. 
What was your dream for your future before you decided to leave your home and before those things happened? Start with the sentence "My dream was …".
Where? In Iran or …
In Iran. At the time when you didn't have the plan to take this trip. What was your dream back then?
My dream … was a life full of peace with my children whose goal is to get educated. When I was asking my daughter and my son about what they want to be in the future, they would immediately and with no hesitation say that they want to become a doctor. And they were, in fact, so hard-working. They were studying very hard at their schools. They would always become the top students in their classes and I have their reports. I would always encourage them to achieve their dream. My dream was my children's dream. My dream was for them to live a successful life and do not experience such hard days but, unfortunately, they saw it. 
What was your dream when you left your home and started your journey?
Back then, my dream was to be in a condition in another part of this big world where I can use my abilities without being limited because of my nationality, race, and identity and be able to serve people and whoever I know.
What strengths and abilities did you have before you left your home?
Personal or…?
Personal.
Do you mean professional?
Personal and professional.
Well, everyone in my family would talk about my abilities. From every aspect, there is nothing that I want to do but fail to. Frankly speaking, I have this ability in me. It is possible. 
A strong will?
I have a strong determination to do any type of work. I can achieve anything that I want, with hard work. 
Do you still have this ability? Do you still have this determination?
Yes, yes. It has increased because of the experiences that I have gained along this journey and I have figured out that the only solution to overcome problems is to have a strong determination. 
The whole situation that you explained seems to be very hard. Do you think you have grown with all of these hardships and do you think anything good has been created in you? Any positive points?
Yes, yes. The greatest change that has happened in me, frankly speaking, is tolerance. My tolerance has become more. It has increased a lot. 
What hopes and dreams do you have for your future now that you are here? start with "My dream is …". Tell us about the dream that you have now.
In the time being, my dream is to live in an advanced country where there are opportunities for my children to grow and I would be able to make my children's dreams come true. I mean, to be able to make their dreams come true. Their dream is to become a successful and well-known person in their society. They want to become doctors. This is very important to my children and my biggest dream is also my children's success and their dreams coming true. 
Thank you very much for answering my questions. I am done with my questions here. But, if you have anything that you want to add to help people in Europe better understand the situation of the immigrants in Greece, you can say that.
Greece is a country located at the entry gate of Europe. It is faced with a lot of economic problems itself. And also, I think there is a critical shortage of professional workforce here. But anyways, due to some rules and regulations, it cannot use the refugees who are gifted and professional. This is a weakness for Europe. Why should professionals come to Europe and wait for years and years to pass their interviews and after that, it is not clear if they can use their skills or if they will be alive. I think this should be considered in Europe's laws. Profession should be considered as an important requirement in the immigration process. Professionals who are forced to immigrate because of the bad situation in their countries, should receive attention. Unfortunately, professional skills are not even among the requirements here. They only take care of those who are sick and vulnerable and tell them that they have been accepted and can go to Germany. This is while I think professional people should receive attention and they should make use of their professional skills. And tomorrow, Europe needs people who can help it with the problems it has, not those who need to be taken care of till the end of their lives.
Thank you very much.
You're welcome. Thanks for your time.
Many 1000 Dreams interviews were not conducted in English. Their translation has not always been performed by professional translators. Despite great efforts to ensure accuracy, there may be errors.